WARNING: Drinking distilled spirits, beer, coolers, wine and other alcoholic beverages may increase cancer risk, and, during pregnancy, can cause birth defects. For more information go to www.P65Warnings.ca.gov/alcohol.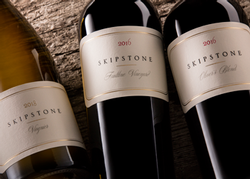 Skipstone Essentials
This package includes one bottle each of our red wines from our wine library: 2014 Malbec, 2014 Oliver's Blend Cabernet Sauvignon, and 2014 Fautlline Vineyard.
Viognier
Five rows of Viognier span the northern peaks of our amphitheater shaped vineyard. Situated on steep mountain terraces, the thin rocky soils force the vines to struggle which in turn brings out intensity and complexity in the fruit. Steady sun exposure during the day followed by afternoon shade blesses us with the ability to achieve both ripeness and long hang time. This in turn adds depth and complexity to the fruit. To balance the weight and intensity of this voluptuous grape, we limit the exposure to oak and avoid malolactic fermentation. Thus the final wine is full but bright and absolutely delicious.
Oliver's Blend - 100% Cabernet Sauvignon
Since the inaugural Skipstone vintage of 2005, our annual approach with Oliver's Blend is to create a blend of Cabernet Sauvignons from up to 20 individual small lots. Each lot has a unique profile (based on soil type, exposure and clonal selection) and blended they create a foundation. This Cabernet Sauvignon is then embellished with small amounts of our other blending varietals to best showcase the vintage.
With so many pockets of soil differentiation and exposures, Oliver's Blend is a symphonic compilation of aroma and flavor. This, coupled with clonal diversity of multiple Cabernet clones throughout our hillside plantings, creates an exceptionally complex wine. Year after year, this is a wine of profound power and elegance.
Oliver's Blend is aged for two years in barrel and another year in bottle prior to our release. This highly-structured Cabernet Sauvignon is an excellent candidate for further cellaring, with potential to age for decades.
Faultline Vineyard - 60% Cabernet Franc, 40% Merlot
Faultline Vineyard is our interpretation of a Right-Bank Bordeaux blend. The awesome power and grace of Pomerol and St. Emillion have inspired us to build a cuvée around our oldest plantings of Cabernet Franc and Merlot. In particular, Cabernet Franc is annually the biggest voice in the blend; this gives our wine its incredible texture and complexity.
Our estate lies directly atop the Mayacamas Faultline, which means earthquakes on occasion. The blessing, however, is an incredible upheaval of land and thus a myriad of soil types that in turn give us diverse flavor profiles from each block. While our Oliver's Blend is about structured Cabernet Sauvignon on rocky hillsides, our Faultline Vineyard is sourced from the loamy, sandy clay in the basin of Skipstone where our Merlot and Cabernet Franc thrive.
The ultimate wine has an incredible texture and a symphony of flavors – the savory aromas of the Cabernet Franc work in harmony with the ripe, fleshy fruit texture of the Merlot, with a dash of Cabernet Sauvignon blended each year for additional structure and ageworthiness.
The Faultline Vineyard is a classic wine, with decades of aging potential.
---